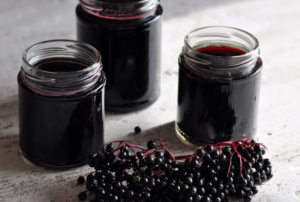 ELDERBERRY SYRUP RECIPE
Prep time – 5 mins; Cook time – 1 hour; Total time – 1 hour 5 mins
A simple natural remedy with a big nutritional punch. We keep this on hand during cold and flu season to ward off illness.
Author: Dave's Super Smoothies
Recipe type: Remedy
Serves: 8+
Note: "Autoimmune diseases" such as multiple sclerosis (MS), lupus (systemic lupus erythematosus, SLE), rheumatoid arthritis (RA), or other conditions: Elderberry might cause the immune system to become more active, and this could increase the symptoms of autoimmune diseases. If you have one of these conditions, it's best to avoid using elderberry.  (WebMD)
Ingredients
⅔ cup Black Elderberries (Boosts your immune system) Must be cooked!!  Click Here to buy Elderberries
3 ½ cups of water
1 Tbsp Organic Cloves (high in antioxidants, antimicrobial, regulates blood sugar, may help with stomach ulcers, etc.)
1 Tbsp Fresh (sliced) Ginger Root AND 1 Tbsp Dried Ginger Powder – antibacterial, antiviral (ginger root), antioxidant (dried ginger powder), and anti-parasitic properties. Protects against respiratory viruses. Purchase Dried Ginger Online Here
8 oz Dark Raw, Unfiltered Honey
Plus 1 Tbsp KFactor-16 or UMF-15 Manuka Honey (if fighting a severe cold or flu)

1 Tsp Ceylon Cinnamon powder – anti-inflammatory, antioxidant, and antimicrobial. Supports your immune health. Contains cancer-fighting enzymes. Purchase from Whole Foods or health food stores; otherwise, Click Here to buy Ceylon Cinnamon.

Note: Should not consume regular cinnamon over an extended period of time. The coumarin level (blood thinning ingredient) in Ceylon cinnamon is negligibly small, while that in Cassia cinnamon is an appalling 1200 times higher.
INSTRUCTIONS
Pour water into medium saucepan and add elderberries, dried ginger & Ceylon cinnamon and cloves. (DO NOT ADD honey, Camu Camu, ginger root or vitamin D yet)
Heat destroys vital enzymes in honey and neutralizes vitamin C in Camu Camu which is sensitive to heat.

Bring to a boil and then cover and reduce to a simmer for about 45 minutes to an hour until the liquid has reduced by almost half.
Add the ginger root after about 30 minutes.  Too much heat reduces the gingerol in ginger root, which is antiviral.
After 45 -60 minutes, remove from heat and let cool enough to be handled. Pour the elderberry mixture through a fine mesh strainer into a large glass jar or bowl. Since some juice will be left in the elderberry mixture, press with a large spoon to squeeze more out.
Discard the elderberries (or compost them in your favorite plants or garden). Let the liquid mixture cool to room temperature.
When it has cooled, add 1 cup of honey (including one tablespoon of KFactor – 16 or UMF – 15 Manuka honey if combating the flu or a respiratory virus), one teaspoon of camu camu, powder from 4 vitamin D tablets, and stir well. DO NOT ADD HONEY TO HOT LIQUIDS. Heat kills the enzymes in honey.
When honey, Camu Camu & vitamin D are well mixed into the elderberry liquid mixture, pour the syrup into a 32-ounce Mason jar or large glass bottle of some kind.
Stir or shake the container before each use, since the Camu Camu tends to settle in the bottom of the container
You just made homemade elderberry syrup! Store in the fridge for up to two months in a sealed container or freeze into ice cubes for long-term storage. Remove the cubes & store them in a Zip Loc freezer bag for easy access.
Take daily for its immune system boosting properties, especially during flu season or a pandemic. 
Standard dose:
½ tsp to 1 tsp for children age 2 or higher
½ Tbsp to 1 Tbsp for adults.
If the flu does strike, take the normal dose every 2-3 hours instead of once a day until symptoms disappear.