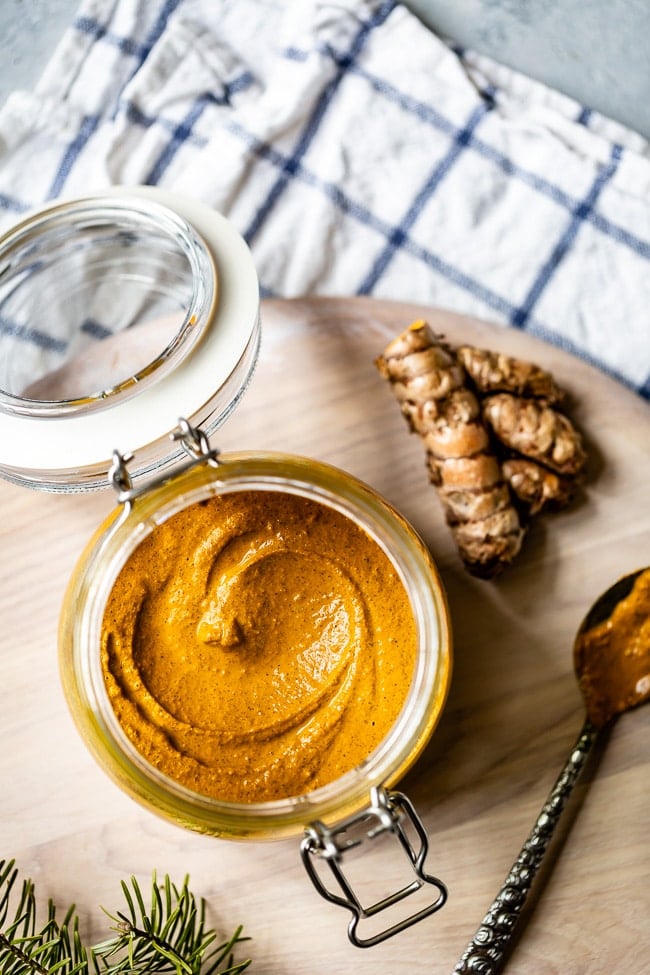 • 1/2 cup turmeric powder (125 mls) – Use organic powder. Our favorite is StarWest Organic Turmeric
• 1 cup water (250 mls) or a bit more to get desired paste consistency
• 1 teaspoon fresh ground black pepper (7.5 mls) (or even 1/2 tsp. if pepper is too irritating)
• 1/2 teaspoon Ceylon Cinnamon – high anti-oxidant spice and natural adjunct to turmeric, & a natural preservative. Our favorite Ceylon Cinnamon – Frontier Ceylon Cinnamon. Do not use regular cinnamon. It has a high percentage of coumarin which cannot be consumed over an extended period of time because it will overly thin your blood.
• 1/4 cup (70 ml) cold pressed Extra Virgin Olive or Avocado Oil – enhances the bio-availability of curcumin (active ingredient in turmeric) another seven to eight-fold.
Note: When eaten with fat (virgin olive or avocado oil) as is done in India, curcumin can be directly absorbed into the bloodstream through the lymphatic system, thereby partially bypassing the liver. Remember, India (especially rural Indians) has four times fewer cases of Alzheimer's than the U.S. Their plant-based diet and curry (turmeric) are major factors. Watch this five-minute video by Dr. Michael Greger, Nutritionfacts.org.

QUICK & EASY DIRECTIONS
• Add turmeric to water in a sauce pan. Heat gently while stirring. Do this until you get a thick paste, approximately 6 to 10 min. Adjust thickness by adding some water or adding a bit more turmeric.
• Add the fresh ground black pepper & Ceylon Cinnamon. Keep stirring to ensure that all ingredients are mixed properly.
• Remove from the heat & allow it to cool but is still warm. Add the oil. Stir until all the ingredients are thoroughly mixed.
• Allow to thoroughly cool to room temperature. Bottle in clean jar with tight-fitting lid and refrigerate it for 3-4 weeks or more.